July 2015 Foothills Emmaus Newsletter
July 2015 Foothills Emmaus Newsletter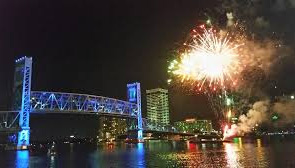 Reminder: We will not have a gathering in July. Enjoy your summer and we look forward to seeing you on August 21st at the First United Methodist Church of Laurens.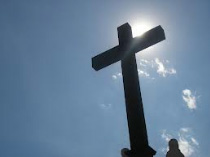 I remember a sermon from our old pastor, Jerry Temple, who is now at Buncombe Street. He was telling us that as a Christian, you are never sitting idle, you are either moving forward in your walk with God or you're digressing. Same thing with a church, you're either growing as a church or you're not. So remember, your growth as a Christian or your growth as a church should always be in constant motion.
As we enter into the hot southern summer months, where we get really busy with not only work but graduations, vacations and holidays, don't forget to make time to spend with Christ. If any of you are like me, I tend to forget my priorities when things start piling up on me. Before I know it, I'm not praying and forming that most important relationship with God.
We attend a weekly couples study/accountability group of 6 couples. It's something my wife and I really look forward to and enjoy. One week, we were discussing how important it was to have a relationship with our Heavenly Father and how we sometimes neglect to do that. One of the women explained it in a way that I don't think I will ever forget…Do you remember that time when your child came to you for advice or just came to you in confidence about something that they were struggling with in their life? Remember how special that made you feel that your child loves and trusts you enough to come to you? She believes that is how God feels when we come to him with our concerns and our struggles. I had never thought of it that way before but, what a genuine way to put it. God wants it all – he wants us to share our joys, our concerns and even our failures with him. Can you imagine how he feels when we don't?
Keep your priorities in order this summer and embrace that relationship with your Heavenly Father.
Michael Galloway
Board Chairperson
---
SPIRITUAL RESPIRATION
The Creator of the universe, who breathed life into us, wants a relationship with us. Over and over again Scripture attests to this. God is here! God is alive! And God wants a relationship with you. God loves you so much that he sent his son, that through Him, you might have a relationship with God for all eternity.
But a relationship is a two way street. Think about the best relationships in your life. Stop right here for a moment . . . close your eyes and think about the best relationships in your life. . . what names and faces come to mind? Rest here for a moment before reading on.
Now, what makes these different from all other relationships? Are these the healthiest, strongest, and most satisfying relationships you have? Are they also the ones which you give priority, invest the most time? Is unconditional love shared? Do you experience forgiveness and blessing? Do they bring you Joy, Peace, Comfort? When you think about these relationships, do you smile?
This is the relationship God invites us into! But how do we have a relationship with someone we cannot see, cannot touch, do not audibly hear, yet says, "I AM"? How do we have a relationship with God that is healthy, strong, satisfying, characterized by unconditional love, forgiveness and blessing, joy, peace, and comfort? That is intimate?
With Prayer. John Wesley called it Spiritual Respiration. Prayer that becomes as natural to us as breathing. The same breath which comes from God, we return to God by prayer, and love, and praise, and thanksgiving. We also petition God for our needs and the needs of others. There are many forms of prayer and spiritual practices. Sometimes prayer is not asking God for anything, but simply honoring the presence of God.
It begins with practice and becomes a discipline. Breathe this prayer, "Be still, and know that I am God." (Psalm 46:10) In prayer as a community, and personally, we may experience the intimate relationship God longs to have with us. God is here! God is alive! And God loves you!
Blessings on the journey!
Rev. Carol Allison, Spiritual Director
---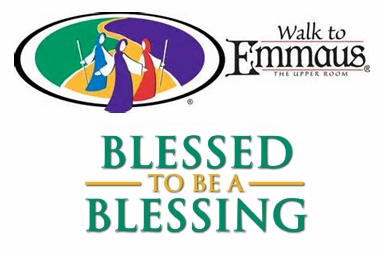 One of the reasons I love the Emmaus community is because it allows the opportunity to be the hands and feet of our Lord and Savior. I feel blessed by all the gifts God has bestowed upon me and serving my brothers and sisters in Christ is one way I can be a blessing as well. Jesus taught us that serving is a blessing in John 13 when he washes the disciples' feet:
John 13
12When he had finished washing their feet, he put on his clothes and returned to his place. "Do you understand what I have done for you?" he asked them. 13 "You call me 'Teacher' and 'Lord,' and rightly so, for that is what I am. 14 Now that I, your Lord and Teacher, have washed your feet, you also should wash one another's feet. 15 I have set you an example that you should do as I have done for you. 16 Very truly I tell you, no servant is greater than his master, nor is a messenger greater than the one who sent him. 17 Now that you know these things, you will be blessed if you do them.
What a powerful image and instruction. Our Lord, Our King, Our Savior kneeling before the very children he was sent here to save, serving them in order to convey his instruction to serve one another. And when we do, we will be blessed.
DeColores
Stephen Foster
GC Walk 81 Table of Paul


---
What does it mean to be a blessing? If you look up the definition of blessing, it states God's favor and protection. Isn't it awesome that we receive God's favor and protection freely as a child of God? Psalms 84:12 "Lord, God, All powerful, you bless everyone who trusts in you." I cannot even imagine what the world would be like if we did not have His favor and protection. So what do we do with God's favor and protection? Do we keep it hidden inside?
I am not sure about your church but when we have a time to voice prayer requests we have no difficulties. Do not get me wrong prayer concerns are important but have you noticed what happens if the pastor asks who has blessings or praise reports? It is often difficult for people to think of their blessings. Our blessings are many so why do we have a hard time identifying them? I do not have an answer and I have been guilty of this myself. So I challenge each of us to reflect daily on our blessings and determine ways you can share those blessings with others.
Blessed to be a Blessing- share the news of God with others so they can enjoy His favor and protection.
Ava Pridemore
Walk 39 Table of Naomi
---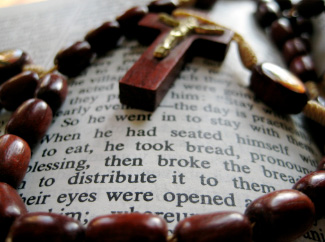 The Great Commission ends in"and be sure of this,I am with you always, even to the ends of the earth." That is such a powerful statement to each of us. As we all came back down off the mountain top experience, we found the world has not changed. We continue to face hardships and trials that do to make sense to us. But in this statement we find strength and hope that Jesus will always be with us. He may not lift the burden from us but he will carry us through those hard times.
Through the days since my walk, I have found great strength through daily study of God's word. We were all challenged during our walks to be intentional in our daily study. It is amazing how during this time of study, we can find so many words of encouragement and hope to guide us through each day.
A great book that has challenged me is gods at war by Klye Idleman. He reminds us of all the things we take for granted that are pulling us away from God. He challenges us to keep our focus on God each day. Another great read is The Grace of God by Andy Stanley. Here he reminds us of God's amazing grace that is interwoven into every aspect of our lives when we seek God first and keep Him at the center of everything that we do.
The more I can stay in God's word and in good Christian books, the more I am encouraged and realize I can face each day with hope. I truly believe Jesus's words, "and be sure of this, I am with you always, even to the ends of the earth."
DeColors,
Frank Wilson
---
Deadlines for the Fall Walk Applications
It is hard to believe that the Fall Walks are just five months away and will be here in the blink of an eye. We know many of you have been diligently praying over those God has called you to sponsor on this next set of walks. If you are a first time sponsor or it has been a while since you have sponsored someone, download the pilgrim application, sponsor form and sponsor responsibilities at www.foothillsemmaus.org under forms, the passcode is the dinner song, no caps and no spaces. Also talk to your sponsor or contact Judith Kop-English, Registrar for questions. Please note there is a limit of 5 men and 6 women per church, this is to limit one person per church for table assignments.
To receive a $25 discount, the completed application needs to be received by August 28th to make the total for sponsorship $100.00. The last possible date applications will be accepted is September 18th, the Friday of the last gathering prior to the Fall Walks. The total cost for applications after August 28th is $125.00.
Please make sure the following is completed/included with the application:
A $25 deposit, you can submit the entire fee with the application, please note all checks will not be deposited until after the Women's Walk.
The sponsor form, please indicate any special needs for your pilgrim
All lines on the application are filled in, print clearly.
Ensure the Walk to Emmaus has been fully explained as well as follow-up activities.
DeColores,
Judith Kop-English, Registrar
Walk 41 Table of Anna
---
STEVE QUAM PARKINSON'S AWARENESS 2015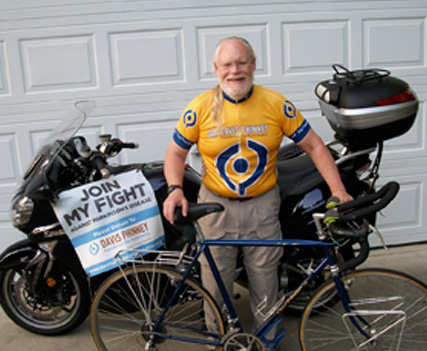 THE MISSING LINK
Our very own Steve Quam of Foothills Emmaus Walk #32 and person with Parkinson's, left home for his Parkinson's Awareness 2015 – The Missing Link on June 9th. He actually started bicycling June 20th in Havre, Montana and has about 100 miles completed as of this writing.
Included here are addresses so you can read more about the trip and how to follow Steve's progress as well as see ways to support him.
http://dpf.kintera.org/copper2015/sqpd
Please share these links and any of the information contained at the sites as you see fit.
"I appreciate your prayers and support so much!" Steve Quam
Steve is a small part of a very large team. You are members of this team. The things that have been accomplished since 2010 have only occurred through all of us working together with our prayers, support and donations. Even though Steve was diagnosed with Parkinson's in 2008, the Disease was first identified nearly 200 years ago. It's a degenerative brain disease with no cure, and no definitive way to diagnose it except by autopsy. We don't even know what precisely causes it. But working as a team we are literally changing the face of Parkinson's. Here is just one example.
There is a Parkinson's exercise group called MOVE IT OR LOSE IT where people are working out at levels far beyond what they could imagine. You would expect to see the anguished facial expressions of people exerting their all or the masked face of Parkinson's. But what you actually see are friends laughing, smiling, and enjoying the increased freedom that exercise has given them. That freedom translates to a better quality of life since there is no magic pill, nor cure for Parkinson's.
…This is why Steve rides.
We have brought our message as far west and north as Fairbanks, Alaska, as far south as Tallahassee, Florida, and as far east as Italy since 2010.
This is how: Steve rode his bicycle from the West Coast to the East Coast in 2010. A year later rode his motorcycle 16,000 miles round-trip to Fairbanks, Alaska. In 2012, rode his bicycle from the East Coast to the West Coast, and in 2013 blended those efforts and motorcycled his bicycle to Colorado, then bicycled the Copper Triangle. Since it was an even numbered year, in 2014, Steve started his THIRD solo coast to coast bicycle ride, and was able to complete 3,220 miles.
Having a safe, comfortable place to spend the night is greatly appreciated. Equally welcomed are meals because Steve burns 5,000 calories per day riding his bicycle. However, any donated FUNDS have NOT been used on these expenses. Steve and Jeanne have gladly shouldered the trip costs. All donated funds go directly to organizations that help people with Parkinson's including the Davis Phinney Foundation for Parkinson's (DPF) whose mission is teaching people how to LIVE WELL today with Parkinson's which matches the Quam's philosophy¹ and approach to this disease. The Greenville Area Parkinson Society (GAPS) http://gapsonline.org/ and the Anderson Area Parkinson's Support Group also provide innumerable valuable programs to the Quams and many local families affected by Parkinson's. For our friends to our north, the Parkinson Society Canada is similarly helpful.
Although it is an ODD numbered year, Steve will climb back on the bicycle to finish the Missing Link caused by the unfortunate accident last summer in Montana. This 800 mile stretch will complete his 3rd Coast to Coast ride. Immediately following that, he will again do the Copper Triangle in Colorado which includes bicycling over Fremont Pass at 11,318'. This year, Steve is honored to join WENDY'S CREW as part of the Copper Triangle fundraiser with the Davis Phinney Foundation for Parkinson's. Steve met Wendy, also a person with Parkinson's, when both were involved in creating an educational video for DPF with several others from around the country.
You can find a personal link to Steve's donation page at: http://dpf.kintera.org/copper2015/sqpd
Or donations can be mailed to:
Davis Phinney Foundation for Parkinson's 1722 – 14th Street #150 Boulder, CO 80302
IMPORTANT !!!! Note on the check or envelope
IN HONOR OF STEVE QUAM, member of Wendy's Crew, Copper Triangle 2015
Follow Steve's (map) progress, read his diary, see pictures at
SQPD.US
If you have any contacts for support along the route: Saco, Montana to Wolf Point, MT to Glendive, MT to Dickinson, North Dakota to Fargo, ND, please notify Jeanne.
EMAIL: pedalforparkinsons@charter.net Cell: 864-353-2711
---
HELP NEEDED
We need help with our newsletter and website. If you are interested in serving on the committee please email Brad Shaver at rshaver@g.clemson.edu.
---
Want to Contribute or Comment?
Visit the Foothills Emmaus site, scroll to the bottom of the home page and click on Register. It will ask for an "Invitation Code". The code is the name of our Dinner Song, all lowercase and with no spaces. Create a username and password. It will email you to let you know you registered successfully and your account will be approved to be able to create your own stories or to post comments on those posts that allow that. Or if you have a story or article idea you don't want to submit online, you can always email it to the newsletter chair. Please email the newsletter chair if you sign up.

Disclaimer: You are receiving this newsletter as a member of the Foothills Emmaus Community. If you wish to not receive any emails from The Foothills Emmaus Community, please email newsletter@foothillsemmaus.org with the subject Remove.
Copyright 2015 Foothills Emmaus Community PO Box 25024 Orchard Park Greenville, SC 29616 USA www.foothillsemmaus.org