September 2015 Foothills Emmaus Newsletter
September 2015 Foothills Emmaus Newsletter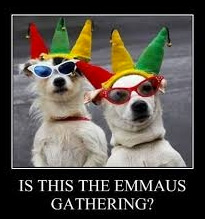 Reminder: The next gathering will be September 18th at 7:30 pm at Mauldin UMC in Mauldin, SC.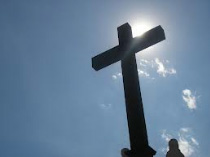 Foothills Emmaus Community,
As your 2015 Board Chairperson, I want to share with you several recent board decisions that we feel will have a positive impact on our community.
First, we have decided to move Send-Off from Bethesda UMC in Easley to Mauldin UMC in Mauldin this coming fall walk. There were several reasons for making this change. Primarily, the Easley location seemed to create more driving time for people coming from areas north of Easley and it is at the height of traffic. Additionally, Mauldin UMC seemed to be a central location for everyone.
Second, we have voted to purchase new software to track our member's information and participation. Currently, we use Microsoft Excel which is not very well suited for the kind tracking that we need. We have decided to purchase software from a small company that just focuses on software designed for Emmaus communities worldwide.
Third, we have elected to "Remodel" the Foothills Community website through a small local website designer. This remodel will enable us to add or delete photographs and add video testimonies in the future. We will have a monthly calendar that will show gathering dates and location, as well as, reunion group meeting times and locations. This new framework will allow optimal viewing on mobile devices such as phones and tablets.
As part of this website remodel, we will have the web designer at our September gathering taking photos for the new website. Let's plan on showing up in full force and fill the sanctuary in September at Mauldin United Methodist Church!
Michael Galloway
Board Chairperson
---
WALK-WEEKEND REMINDERS

Men's Walk: October 1st – 4th
Women's Walk: October 8th – 11th
Sendoff
7:00 pm at Mauldin UMC in Mauldin, SC
Candlelight
8:30 pm at Trinity UMC in Greenville, SC
Closing
5:00 pm at the Church of God Camp in Simpsonville, SC
---
A Servant's Heart
Many people go into making a successful walk. There are team members, kitchen workers, and agape makers, and prayer partners. Another important role is that of the sponsor. As with other roles I've mentioned, the walk would not happen were it not for the sponsors. In a way, sponsors are the life blood of our community.
Sponsors prayerfully consider and then invite potential pilgrims. The real work begins when a pilgrim agrees to go on the walk. Sponsors answer questions and help prepare the pilgrim for the weekend. They lead and mentor the pilgrim through the process. Then of course comes agape letters and the weekend itself.
Sponsorship requires a servant's heart but is a very rewarding experience. I have been lucky enough experience it for myself several times. While there is no experience like the first time you go on the walk being a sponsor allows you to relive some of those special moments and remember the blessings that you received. Having a servant's heart can lead to many unexpected but special blessings. The experience of sponsorship can certainly be one of these blessings. If you have never sponsored someone, or if it's been too a few walks since you have, then I encourage you to start praying for a potential pilgrim today.
DeColores,
Brad Shaver
---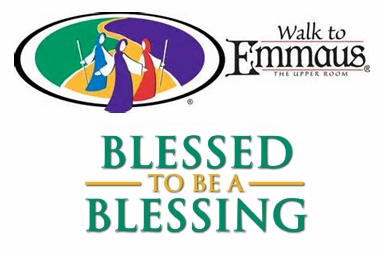 WE ARE BLESSED TO BE A BLESSING
1 Peter 3:8-9 says "Sympathize with each other. Love each other as brothers and sisters. Be tenderhearted, and keep a humble attitude. Don't repay evil for evil. Don't retaliate with insults when people insult you. Instead, pay them back with a blessing. That is what God has called you to do, and he will bless you for it." We have all been blessed by God's grace to be a blessing to others. We find that easy a lot of times in our comfort zones such as our families, our church friend's and even our Emmaus family. But God calls us to extend blessings to those who have hurt us and insulted us. Who in your past has hurt you? Have you avoided them because of your hurt? Maybe it's time to pay them back with a blessing. By God's grace, we have all been blessed. Let that blessing extend to all of God's children.
---
That Time of Year!
September is that time of year when we anticipate the beginning of Fall, Football season and of course, The Walk to Emmaus.
I had the opportunity to be at First UMC Laurens for the first week of training. I got to see all the new faces of the community attending training for the first time to be Assistant Table Leaders, old faces (you know what I mean) of those who will be Table Leaders, ALD and members of the Clergy all preparing to be a part of the Pilgrims walk weekend.
Having been in the Conference Room many times, I know what the experience and anticipation is for those who are serving. It is such an honor to be able to serve as a member of the team. It takes hard work, lots of time and the willingness to give up several weekends to do it. But the results are all worth it.
The same holds true for all of the opportunities the weekend holds. Working in the kitchen, providing refreshments, working with transportation, prayer vigil and candlelight, a lot of work goes into holding a walk. In recent years it has been refreshing to see so many people stepping up to help and participate. It makes me proud of our community.
But all of this hard work is for naught if we don't have the most important ingredient; Pilgrims. Sponsorship is so important to the community and the future of the Walk to Emmaus. Alice and I know from experience how wonderful and exciting it is to sponsor. I look at some of those we have sponsored in the past and the positions they have now in the community and on the board.
Once again we will be sponsoring a couple for the weekends. They are excited to attend, not because of what we have told them about the walk, but what they see in those who have gone on the walk and how they are filling roles in the church as they move forward on their walk with Christ. Pilgrims become stronger Christians, they become an integral part of the success of the Church. We are all called to be The Body of Christ. Each of us needs to bring others to Christ. It takes time to sponsor but the results are worth it. If there is a financial problem, there is money available to assist. But please, help others to be able to experience what you have experienced. Ask Christ how you can help.
DeColores
John MacKeil
Walk #28
---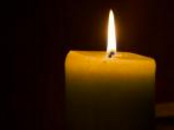 In 1971 the Reverend Bob Kerr who was currently serving in the church I grew up in started a contemporary youth choir named The New Wine Skins (Matthew 9:17). It consisted of youth 7th-12th grade and a handful of counselors. Fast forward to 1991 I was finally able to join the group, following in my sister's and brother's footsteps. It was without a doubt 5 of the best years in my young life. I wasn't, and still am not, a class act singer but I loved worshiping with the group, traveling, and witnessing.
In August I got to experience ONE of the most spirit filled weekends in my adult life. Some of the former group members planned a weekend reunion and I just had to attend. I packed my husband, son, my 30 lb puppy and myself up and we traveled to the big town of McLeansville, NC where I call home. We got to fellowship, reminisce over old pictures, laugh, cry, sing and of course eat. Sunday morning all present members including about 70 singers and 15 musicians led worship, singing songs from every era.
As we sang Dallas Holms' song (one from my era) I Saw The Lord goosebumps covered my arms and tears fell down my cheeks. I couldnt help but think back at my walk and the amazing feeling at the candlelight service. "I looked into the night. The darkness overtaken by a bright shining light. I couldn't reason how then my eyes beheld him, I wasn't dreaming now…". Its funny how that line I sang so many times in those 5 years came full circle on my walk. I hope and pray the pilgrims on walk 49 have the darkness overtaken by a bright shining light as many of us have on our walks.
DeColores,
Katie Wilkins
Walk 42 table of Mary
---
HELP NEEDED
We need help with our newsletter and website. If you are interested in serving on the committee please email Brad Shaver at rshaver@g.clemson.edu.
---
Want to Contribute or Comment?
Visit the Foothills Emmaus site, scroll to the bottom of the home page and click on Register. It will ask for an "Invitation Code". The code is the name of our Dinner Song, all lowercase and with no spaces. Create a username and password. It will email you to let you know you registered successfully and your account will be approved to be able to create your own stories or to post comments on those posts that allow that. Or if you have a story or article idea you don't want to submit online, you can always email it to the newsletter chair. Please email the newsletter chair if you sign up.

Disclaimer: You are receiving this newsletter as a member of the Foothills Emmaus Community. If you wish to not receive any emails from The Foothills Emmaus Community, please email newsletter@foothillsemmaus.org with the subject Remove.
Copyright 2015 Foothills Emmaus Community PO Box 25024 Orchard Park Greenville, SC 29616 USA www.foothillsemmaus.org